The 15th Annual Legal Studies Undergraduate Research Conference showcases original empirical research from undergraduate scholars in the Legal Studies Honors Program. The Honors theses presented have been developed over the 2021-22 academic year via a sequence of two research seminars and with the support of dedicated faculty mentors. The conference is an opportunity to recognize and celebrate the impressive work accomplished by these promising young scholars.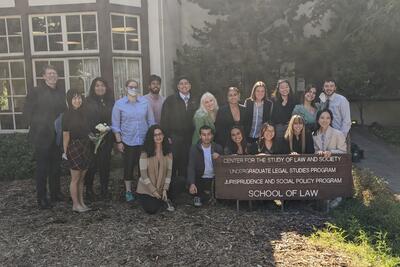 Friday, April 22, 2022, 10am - 4pm
Introductory Remarks 
10:00-10:20 am
Jon Marshall, Ph.D., Assistant Dean JSP/Legal Studies, 
Jonathan Simon, Lance Robbins Professor of Criminal Justice Law Professor
Calvin Morrill, Associate Dean for Jurisprudence and Social Policy


Panel 1: Legal and Political Consciousness of Marginalized Groups
10:20-11:30 am
Moderator: Mitzia E. Martinez Castellanos, JSP
Dana Chen
On Becoming a Leftist Activist: How Leftist Students of Color Develop, Conceptualize, and Mobilize Political Identities in the 21st Century
Alex Rodriguez
Nowhere to Hide: Life Post-SB 1070 in California for Latinx People
Shealyn Massey
The Legal Consciousness and Legal Mobilization of Queer Asian Pacific Islanders
Ibrahim Mohyuddin
On the legal consciousness of Muslim Americans
Panel 2: Law on the Frontlines During the Covid-19 Pandemic
11:30 am-12:40 pm
Moderator: Isabella Mariani, JSP
Natalie Gonzalez
Frontline Work in a Time of Crisis: Child Welfare Decisions Under Pandemic Policy
Harman Gakhal
Teaching Racial Justice on the Frontlines: Teachers and Administrators in a Rural District Fighting for Academic Freedom
Eric Esparza
Deal or No Deal: Perspectives of Public Defenders on Plea Bargaining
Jin (Julia) Yoo
The Future of Law Looks a Lot Like a Legal Vending Machine: Lawyer-Client Interaction in Technologically Mediated Legal Advice


12:40 – 1:40 pm
Lunch Break at Steinhart Court


Panel 3: Organizations & Regulation in Environmental Justice and Criminal Justice


1:40-2:50 pm 
Moderator: Anthony R. Carrasco, JSP
Zoe Lee-Park
The Origins of Framing Environmental Justice
Ashley Soliman
Beyond Natural Resources: The Role of Resources in Legal Mobilization Across Environmental Justice Organizations
Emily Woods
The Politics of Failure to Mitigate Climate Litigation.
Evelyn Moradian
Realignment Reawakened: SB 823 and its Implications in California Counties for System-Engaged Juveniles


Panel 4: Law and Justice in Art, Language, Literature and History


2:50-4:00 pm
Moderator: William Darwall, JSP
Jesus Urbano Gonzalez
Translation Crisis: Transcending Borders but not Language
Winnie Gunther
Law and Literature: Imaginations of Law in Utopian and Dystopian Literature of the 1950s/1960s
Louana Garraud
Portraits of Justice: The Art of Dispute Resolution for the Restitution of Nazi- Looted Artwork in the U.S.
Sid Schlafman
Criminal, Unnatural, Perverse and Repulsive: American Queer Activism and Social Control from 1950


4:00 pm Closing Remarks